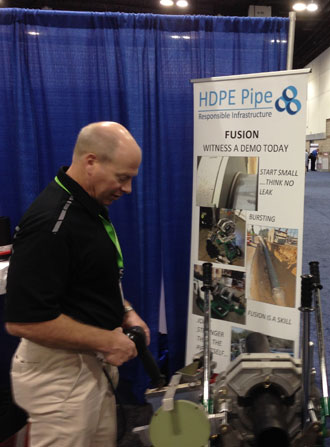 The Alliance for PE Pipe is composed of leaders in the HDPE pipe industry who are committed to the advancement of PE pipe in municipal water systems. Their goal is to help American and Canadian municipal leadership realize the real-world benefits and long-term cost-effectiveness of using PE pipe.
The PE Pipe story is so incredibly compelling that the Alliance commits itself to regular educational events for municipal leadership, field staff, consulting engineers, and utility contractors. The Alliance meets face-to-face with over 3,000 of these people annually to share knowledge on the features and benefits of the pipe and related equipment. Many of these meetings include a demonstration of the HDPE fusion process, and this demonstration gives people a fresh take on the old problem of fix and break, fix and break pipe.

Join the evolution of the industry with a revolutionary approach:
HDPE pipe, fittings, and equipment.